PARZIVAL'
Hrsg. Monika Jagfeld /
Haus am Gern
BONAN TAGON!
MIA NOMO ESTAS PARZIVAL'
ISBN 978-3-9524192-7-4
Monographie und Künstlerbuch in Form eines Esperantolehrbuches, 2-teilig im Schuber
Monografie: 466 Seiten
Leineneinband fadengeheftet
über 500 Abbildungen Lehrbuch: 148 Seiten
260 Abbildungen
Broschur
Biel/Bienne, 2017
Auflage: 600
Breite: 21 cm
Höhe: 29.7 cm
Sprachen: D/ EO/ E/ F / IT/ESP /RUS /ZH /ARAB
Texte Monografie: Dr. Monika Jageld / Tom Kummer / Armin Wildermuth / Barbara Meyer Cesta & Rudolf Steiner
Texte Lehrbuch: Dietrich Michael Weidmann
Gestaltung: Barbara Ehrbar, superbüro, Biel/Bienne
«Ich habe keine persönliche Identität, meine Mission ist meine Identität.» Parzival'
Der Outsider-Aktions-Künstler Parzival' ist kein Utopist, sondern Visionär. Seit den frühen 1970er Jahren tritt er aktiv für den Weltfrieden ein, reklamiert die Regierung der Welt für sich und lebt in seiner «Ambassade de soleil» in Sonceboz ein konsequent atomstromfreies Leben ohne Benzinmotoren. Obwohl er explizit ein politisches Ziel verfolgt ist Parzival' doch mehr als ein politischer Aktivist. In einem höchst kreativen und humorvollen Prozess verpackt er jede Äusserung, jede Agitation in eine künstlerische Form zum Zweck der Völkerverständigung.
Die vorliegende Publikation dokumentiert dieses aussergewöhnliche Werk zum ersten Mal in seiner ganzen Vielfalt. Der reich bebilderte monografische Teil wird ergänzt durch ein Esperanto-Lehrbuch, das mit Parzival's originalen Esperanto-Kursen gestaltet wurde.


For Esperanto and English see below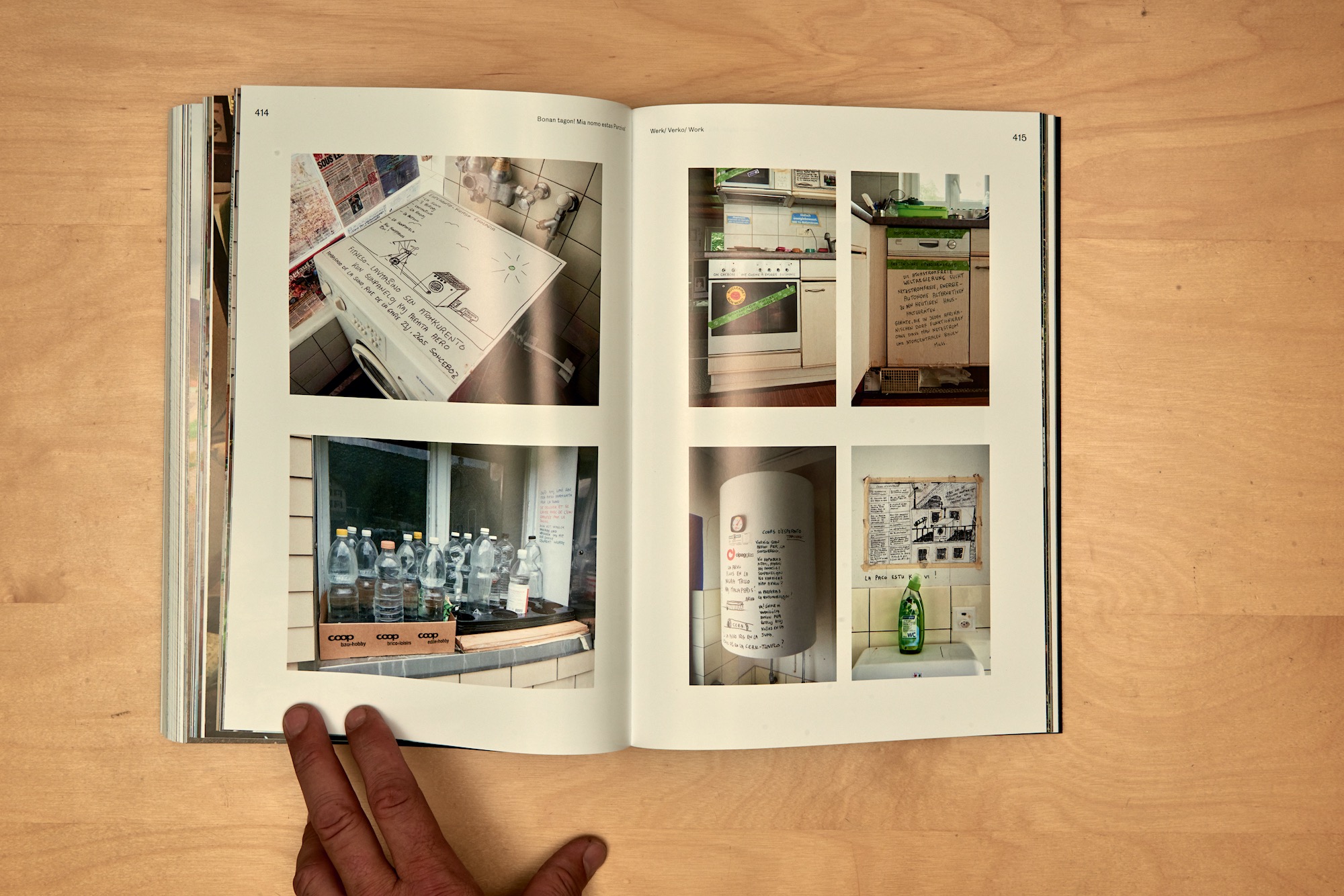 «Mi ne havas personan identecon, mia misio estas mia identeco.» Parzival'La apartemula agad-artisto Parzival' ne estas utopiisto, sed viziisto. Ek de la fruaaj 1970-aj jaro li aktive pledas por la mondpaco, kaj pretendas la registaron de la mondo por si mem, vivas en sia «Ambasado de la Suno» en Soncebozo konsekvence senatomenergian vivon sen benzinmotoroj. Kvankam li eksplicite havas politikan celon, Parzival' tamen estas pli ol politika aktivulo. Per tre krea procedo li envolvas ĉiun eldiron, ĉiun agitadon en artan formon kun la celo de la interkompreniĝo de la popoloj.
La jena publikaĵo dokumentas tiun-ĉi eksterordinaran verkon por la unua fojo en sia tuta multflankeco. La riĉe bildigita monografia parto estas kompletigita per Esperanto-lernolibro, kiu estas aranĝita kun la originalaj Esperanto-kursoj de Parzival'.

"I have no personal identity; my mission is my identity."
Parzival'
The outsider action artist Parzival' is not a utopian, but a visionary. Since the early 1970s, he has advocated for world peace, proclaiming himself the world government and living life free of both fossil fuels and nuclear power. He lives in his "ambassade de soleil," the 'embassy of the sun,' in Sonceboz, a small Swiss village. Although his goal is explicitly political, Parzival' is more than a political activist. In a highly creative and humorous process, he cloaks every expression, every action in artistic form, with the ultimate purpose of increasing intercultural understanding and cooperation.
This publication documents Parzival's' extraordinary work in all its variety for the first time. The richly-illustrated monograph is supplemented by an Esperanto textbook based on Parzival's' original Esperanto courses.